Hondenfluisteraar of HondenLuisteraar
Nee, ik kan volmondig zeggen dat dit voor mij niet klopt!
Ik FLUISTER niet tegen honden. Ik vertel hen niets. Ik 'Luister' naar hen.
Dus… de beroepsbenaming HondenFluisteraar wijzig ik in HondenLuisteraar. Dat is wat beter bij mij past.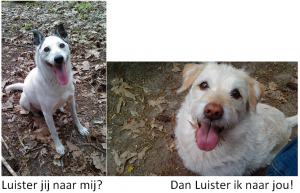 Hoe verloopt een sessie?
Ik ga een gesprek aan met de baas en 'Luister' naar de hond én baas. Tegelijkertijd ga ik over in het verwerken van de verkregen informatie. Dit is informatie die gevoelsmatig, spiritueel (via mijn heldervoelende gaven), visueel, mondeling bij mij binnen komt.
Daaruit volgt een actieplan voor baas en hond. Wat wil de baas? En vooral, wat wil de baas zeker NIET doen. Als ik dat weet hoef ik dat ook niet in het actieplan te betrekken.
Wat zijn, op dat moment, de mogelijkheden van de hond en wat is acceptabel en gevoelsmatig mogelijk om te gaan doen. Er volg direct een korte werksessie met baas en hond waarbij er meteen een gedragsverandering zichtbaar zal zijn bij de hond.
Vrijwel altijd is één sessie voldoende om die gedragsverandering te zien ontstaan. Soms is één of enkele vervolgsessies gewenst.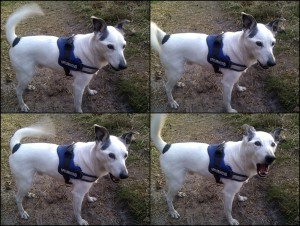 Mag ik u even iets vragen?
Spreekt het u aan wat u gelezen hebt?
Maak dan een afspraak. Bel mij even.
Tel.: +31 624 514 708 (NL)
Liever niet bellen? Gebruik dan het contactformulier.
---